Our Packages
Guided Herb Workshops in the Alpine Garden
In summer weekly workshops around herbs and plants and products derived from them are taking place in the garden, guided by the Tirolean expert ladies in alpine plant science Cornelia Miedler, Daniela Lamprecht and Gertrude Messner.
The workshops start at 9.30 a.m. and last for about three hours. The costs for the required material are to be paid directly to the workshop leader.
The individual herb workshops can be booked at place with the hostess Mrs. Aloisia Stock – at least 6 participants per workshop are required for it to take place.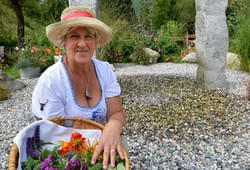 7 days incl. HB.
Saturday - Saturday
4 Workshops ( Mo. Tu. We. Fr. )